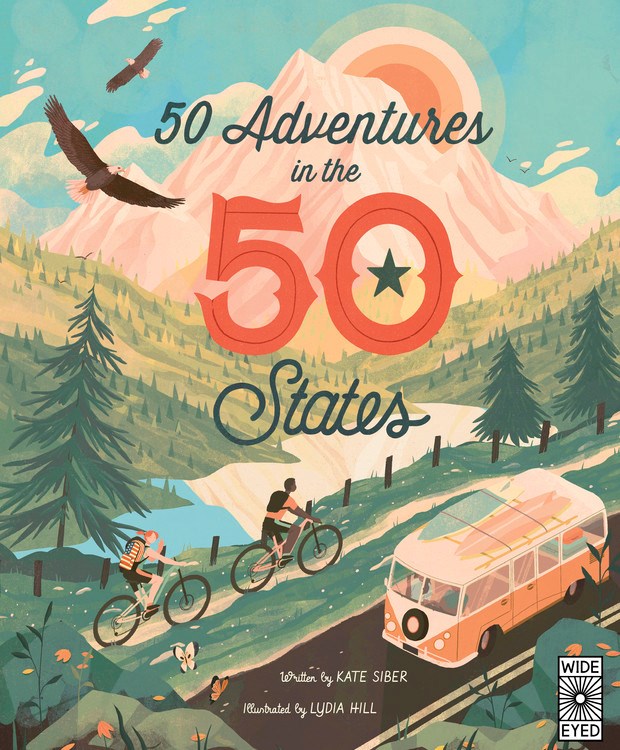 One of the best surprise gifts of my writing career has been the opportunity to write children's books. When a commissioning editor reached out to me about writing National Parks of the U.S.A., I thought…why not? Little did I know that books live in the world in a different way than magazine articles, and I am still blessed with the rewards even a couple years after it was released. Readers tag the book in Instagram posts, send me photos of their kids enjoying it, and even send snapshots of the cover spotted in random places like the Crate & Barrel catalog. The whole project has been delightful, from the writing and researching to watching it move through the world.
So it is with great enthusiasm that I am wrapping up my second children's book, 50 Adventures in the 50 States, which will hit shelves in October. Also commissioned by Wide Eyed Editions (Quarto), the book is being illustrated by the amazing Lydia Hill. Together we created what I think will be an huge heap of fun for kids and grown-ups alike.
We chose ONE adventure for each state with the goal of inspiring kids to get outside, be active and explore the natural world right around them. The adventures go from the far-flung, like walking on a glacier in Alaska and exploring lava flows in Hawaii, to easy activities that might happen right in your backyard, like wildlife-watching in New York City or ice skating in Chicago. I included lots of fun facts not only about the places and activities but also the animals, plants, and other wonders you will see along the way.
To preorder the book, look up your local independent bookshop (Maria's in Durango is my favorite) or click here to order it through Amazon.
Click here for a sneak preview of the Nevada spread!