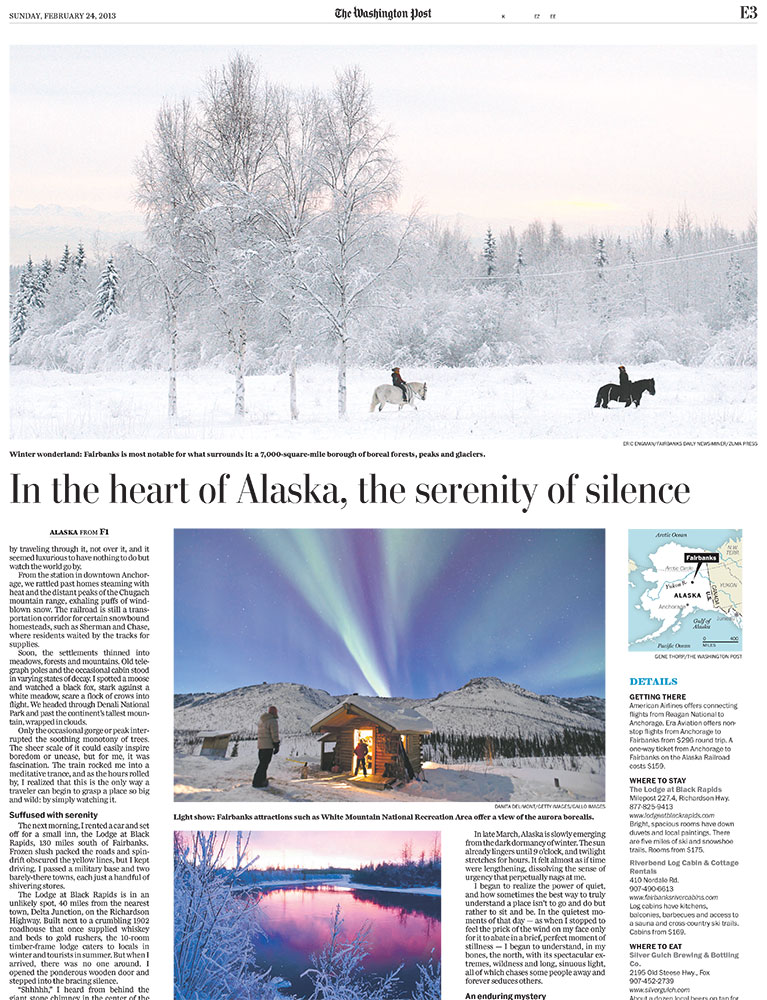 In The Heart Of Alaska, Serenity Springs Eternal
The Washington Post | February 24, 2013
By Kate Siber
I was outnumbered. Ten Alaskan huskies yelped, jumped and trembled with excitement on a snowy hill 10 miles outside Fairbanks, Alaska. My dog-sled instructor, Leslie Goodwin, sat in the basket of my sled as I poured all my weight onto the foot brake. I couldn't believe that she trusted me to drive this thing.
"Let's go!" she said and smiled up at me, amused by my unease. I gingerly slid my foot off the brake. With a jerk, the dogs sprang into a gallop, and I shrieked. But they quickly settled into a rhythmic trot, and the stab of adrenaline soon melted into calm.
We floated through spruce forests and untracked meadows topped by a pale sky. I eased my grip on the handle and watched an unbroken tableau of woods and fields unfurl below us. It was hard to believe that we were just outside Alaska's second-largest city.
Once an early 20th-century trading post that served gold miners, Fairbanks is now a flat, frozen college town of 32,000. But it's most notable for what surrounds it: a 7,000-square-mile borough of boreal forests, peaks and glaciers. This part of Alaska is marked by harsh extremes — vicious wind, up to 20 hours of darkness and temperatures that regularly dive below zero. It's not an obvious destination for midwinter rest and relaxation. Most of the few winter visitors come with a purpose: to see the aurora borealis.
I'd come for more than that.
I'd spent the previous week on a raucous, bourbon-soaked ski trip with friends in Prince William Sound and was in need of detox. I'd come seeking a sliver of peace, but I was also curious about the beauty of the interior. What I found surprised me. After three trips to Alaska, I realized that I'd never truly understood the spirit of the state until I visited its remote northern reaches last winter, alone.
Railway zen
To get from Anchorage to Fairbanks, most sensible people take a flight. I, however, decided to take the train, a 12-hour roll through the deep freeze of central Alaska. I wanted to understand the scale of the state by traveling through it, not over it, and it seemed luxurious to have nothing to do but watch the world go by.
From the station in downtown Anchorage, we rattled past homes steaming with heat and the distant peaks of the Chugach mountain range, exhaling puffs of windblown snow. The railroad is still a transportation corridor for certain snowbound homesteads, such as Sherman and Chase, where residents waited by the tracks for supplies.
Soon, the settlements thinned into meadows, forests and mountains. Old telegraph poles and the occasional cabin stood in varying states of decay. I spotted a moose and watched a black fox, stark against a white meadow, scare a flock of crows into flight. We headed through Denali National Park and past the continent's tallest mountain, wrapped in clouds.
Only the occasional gorge or peak interrupted the soothing monotony of trees. The sheer scale of it could easily inspire boredom or unease, but for me, it was fascination. The train rocked me into a meditative trance, and as the hours rolled by, I realized that this is the only way a traveler can begin to grasp a place so big and wild: by simply watching it.
Suffused with serenity
The next morning, I rented a car and set off for a small inn, the Lodge at Black Rapids, 130 miles south of Fairbanks.  Frozen slush packed the roads and spindrift obscured the yellow lines, but I kept driving. I passed a military base and two barely-there towns, each just a handful of shivering stores.
The Lodge at Black Rapids is in an unlikely spot, 40 miles from the nearest town, Delta Junction, on the Richardson Highway. Built next to a crumbling 1902 roadhouse that once supplied whiskey and beds to gold rushers, the 10-room timber-frame lodge caters to locals in winter and tourists in summer. But when I arrived, there was no one around. I opened the ponderous wooden door and stepped into the bracing silence.
"Shhhhh," I heard from behind the giant stone chimney in the center of the room. Behind it, the proprietor, Annie Hopper, sat cradling a 1-day-old infant. She smiled and spoke in whispers. The baby girl was the child of employees who live on the premises. Hopper's serenity seemed to suffuse the room, and I felt my shoulders loosen.
Running the lodge is a labor of love for Hopper, a gregarious social worker from Fairbanks, and her husband, Michael, a quiet, bearded psychologist with an intense gaze. They built it with the help of friends, adding such creative touches as a belvedere for watching the northern lights. Both are in love with the landscape and the quiet life. They spend a few days a week here, but hope to live here for good one day.
Every day, Annie takes an outdoor excursion, and she later rented me a pair of the lodge's snowshoes to climb the mountain out back. As I tromped up the slope beneath mottled clouds, the 10-degree air felt like a tonic in my lungs. Everywhere, the tracks of small mammals, stirring with the suggestion of spring, perforated the snow beneath the wind-stunted black spruce trees. Annie stopped to turn around and look at the valley below.
"This is our television show," she said. "I could sit here all day watching the weather move through the valley." We gazed over the wide glacial valley, the braided Delta River and the rows of peaks, some of which haven't yet been named. The clouds lifted and descended in a mysterious choreography, revealing the landscape in alluring pieces. I marveled at the simplicity of sound: only the shearing of the breeze over the surface of the snow.
That evening, the other guests — a local couple and a local family — and I gathered for a dinner of buffalo roast and drinks by the fire. The atmosphere was so warm and drowsy that I retired early, craving sleep.
The power of quiet
There is a type of rest that happens, for me, only in the absence of electronics and sound. I rose the next morning as if I had awakened in a new century. I opened the shades to the silver light of an overcast day. Snowflakes drifted in the air, aimless. The outlines of the trees against the snow looked crisper than usual, as if I were looking through a sharper lens — or perhaps just a more spacious mind.
In my normal life, I try to do as much as I possibly can, cramming each day with a numbing litany of tasks. It's only natural that when I travel, I do the same thing. I do and see as much as possible — museums, city streets, restaurants, monuments, people.
But here, in the absence of electronics, a good cellphone signal and anything important to do, I loosened my grip on my schedule. I stretched, read my book in a hug of an easy chair, and tromped up another mountain on snowshoes, stopping to contemplate the slanting light and the evidence of moose and fox.
In late March, Alaska is slowly emerging from the dark dormancy of winter. The sun already lingers until 9 o'clock, and twilight stretches for hours. It felt almost as if time were lengthening, dissolving the sense of urgency that perpetually nags at me.
I began to realize the power of quiet, and how sometimes the best way to truly understand a place isn't to go and do but rather to sit and be. In the quietest moments of that day — as when I stopped to feel the prick of the wind on my face only for it to abate in a brief, perfect moment of stillness — I began to understand, in my bones, the north, with its spectacular extremes, wildness and long, sinuous light, all of which chases some people away and forever seduces others.
An enduring mystery
A couple of days later, I drove to Chena Hot Springs. Sixty miles northeast of Fairbanks, it was originally discovered by gold miners in the early 20th century. Now, there's a small, casual resort with guest rooms, dog-mushing tours and ski rentals. But the place remains a pilgrimage site for locals in winter. After cross-country skiing up a frozen riverbed, I changed into my swimsuit and slid into the mineral pool, ensconced by boulders. Closing my eyes, I let the sun warm my face and the steam soften my hair.
There was almost no one there except an elderly Alaska Native couple, who said that they made the schlep every year from their home near Anchorage. As they leaned back against a rock, I watched the calm wash over their faces, as if the water had the power to rinse away the stiffness of winter. I let my back soften and my arms float, watching the spruce and birch trees for stirring wildlife.
I was flying out of Alaska later that night, and sitting in the pool, I reflected on my trip. I realized that I never had gotten to see the northern lights, which reportedly travel through the sky like phantoms on clear nights.
In a way, I was glad, not only because it meant that I had a reason to come back. It also seemed fitting that this place, a mind-bending mix of big landscapes and delicate beauty, would retain a shred of mystery.