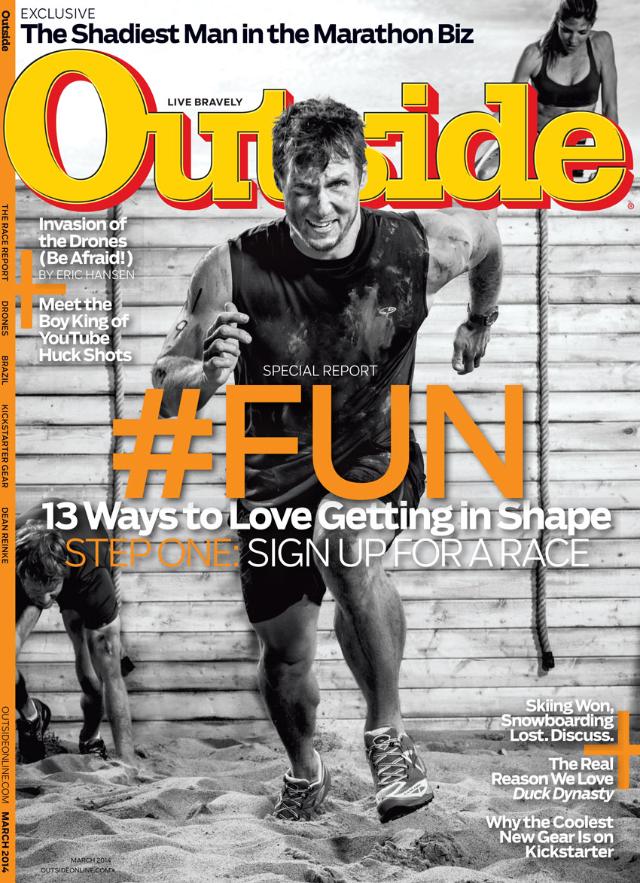 Outside | March 2014
Between the 2014 World Cup and the 2016 Summer Olympics, Brazil is having a moment. But with sprawling rainforest, isolated mountain ranges, and thousands of miles of beaches, it's also one of the world's great adventure hubs. To help you get far beyond the capital, we tapped a team of local experts for this insider's guide.
By Kate Siber
FIND EMPTY SAND
Brazil is deservedly famous for the beaches of Rio de Janeiro. But the country has 4,654 miles of coastline, and most of it is tourist-free. Our favorite spot: Pouso da Cajaiba, a tiny, rarely visited (but surprisingly accessible fishing village situated between Rio and Sào Paolo. The place has a 400-yard slice of perfect yellow sand, a shock of rainforest, one church, a few fishermen's homes, and plenty of peace and quiet. You can't get there by car, and there are no hotels. Which means it's an adventure just showing up—you have to use the visitors association website to arrange a boat ride from the wharfs at Paraty or Paraty-Mirim and rent a room from a local (boat ride from $10, rooms from $25; comunidadedopousodacajaiba.blogspot.com). Beyond that, there's not much to worry about. Spend your days inspecting colorful reef fish in the turquoise shallows, wandering footpaths to ocean lookouts, and rinsing off in waterfalls.
SEE THE AMAZON…
A visit to the Mamirauá Sustainable Development Reserve, located in Brazil's remote Amazonas state, is like seeing a 2.8-million-acre chunk of the Amazon as it existed half a century ago. Mamirauá is home to the world's largest protected freshwater swamp forests, wildlife like squirrel monkeys and caica parrots, a mess of rivers and lakes, and precisely one eco-lodge—Uacari, which is run by local communities ($610 for three nights; pousadauacari.com.br). Guests stay on a pod of five floating wooden bungalows with porches and canoe the maze of waterways to spot three-toed sloths, red-raced uakari monkeys, and pink river dolphins. There are two ways to get here. You can fly from Manaus to Tefé, then hop Uacari's shuttle boat to the lodge. Or, if you have the time, ride the ferry up the Solimoes River from Manaus. It'll take 48 hours and you'll sleep in a hammock, but you'll see tiny riverside communities, spot countless life-list-worthy birds, and get a full-immersion experience in the world's largest jungle.
…OR FIND A CLOSER JUNGLE
The Amazon gets all the glory, but Brazil is also dense with rare tracts of biodiverse Atlantic rainforest. Itatiaia National Park, a four-hour drive from Rio de Janeiro, is the best place to see it. Stay at Hotel Donati (from $138; hoteldonati.com.br), a collection of three wood-paneled chalets with fireplaces that were built before the park was founded in 1937. Spend your days on trails through forests studded with ferns, orchids, and bromeliads where sloths and wildcats live. Or hire a park guide to explore beautiful high-altitude grasslands punctuated by bare 9,000-foot granite peaks (arrange with hotel).
FEAST
What New York City is to the American culinary scene, São Paulo is to Brazil's. Thriving immigrant populations in the world's seventh-largest city (pop: 20 million) support a wildly diverse food culture. We asked our experts to put together the ideal tasting menu.
1.) Manish serves kaftas (beef kebabs), esfihas (Arabian stuffed pizzas), and other Middle Eastern specialties in a shining modern dining room with banquettes and indoor trees. manishrestaurante.com.br
2.) In Vila Nova Conceição, an upscale neighborhood, Kinoshita has sushi and sashimi like salmon with yuzu fragrance and white truffle. restaurantekinoshita.com.br
3.) At D.O.M., chef Alex Atala—one of the country's food pioneers—transforms Brazilian ingredients like hearts of palm and priprioca roots sourced from small-scale Amazonian farmers into adventurous, modernist creations like ceviche marinated with native flowers. domrestaurante.com.br
4.) Alberto Landgraf of Epice cooks up dishes like sea bass with braised leeks, cassava flour, and lemon puree. Plus: raw brazil-nut ice cream. epicerestaurante.com.br
5.) A glass-walled bistro near busy Paulista Avenue, Spot serves Brazilian specialties like beef stew with cassava and plantains. restaurantespot.com.br
6.) At São Cristóvão, waiters dress like referees and serve stews, roasts, and bottles of Antarctica beer in a room plastered with soccer memorabilia. 011-55-11-3097-9904
RIDE WITH GAUCHOS
South America's famously rugged cowboys aren't just an Argentinean thing. Only a few of them are still working, owing to Brazil's increasingly urban economy, but you can see them at Barra Mansa, a 19th-century farm and homestead where gauchos guide herds of cattle across the rivers of the Pantanal, one of the world's largest freshwater wetlands. The Pantanal is also the place to fish for dorado, watch caimans and stingrays swim beneath a canoe, and ride a Pantaneiro horse into the low forests and grasslands. Rooms are simple, but dinner is everything you'd expect from a meat-eating South American region: roasted wild pig and rich caribéu, a jerky and cassava stew. From $374; hotelbarramansa.com.br
SURF AWAY
It's no surprise that surfing has spread from Rio, where local legends like Otavio Pacheco cultivated the sport in the 1960s, to hot spots up and down the coast. Today, visiting surfers have an astounding range of charted (and not-so-charter) breaks. Beginners: head to Itamambuca, in the north of São Paulo state. Though it's packed with surfers, the mellow vibe and swath of Atlantic forest attracts hikers and birdwatchers. Base out of Itamambuca Eco Resort, which has surf instructors and a quiver of rental boards for beginners (from $228; itamambuca.com.br). Looking for something more serious? Head to Maresias, 60 miles east of São Paulo. This white-sand beach stretches for three miles, and though the water is clear, it's rough. Consistent waves have attracted a number of local and international competitions, including a stop on the ASP tour. Surf House Maresias offers simple rooms and surfboard storage (from $30; surfhousemaresias.com.br). For a truly wild adventure, take the 336-mile flight (from $379; voetrip.com.br) to Fernando de Noronha, an archipelago of 21 dark, volcanic islands known as the Brazilian Hawaii. Big Atlantic swells slam into the island from December to March, creating barreling ten-footers—all backed by black cliffs and a riot of greenery. Crash in one of Pousada Maravilha's five bungalows, where wooden hot tubes overlook a panorama of toothy volcanic rocks and the serene Sueste Bay (from $590; pousadamaravilha.com.br).
GET CULTURED
Rio has the beaches and São Paulo has the food, but the state of Bahia, in the country's northeast, is the center of Brazil's Afro-influenced music and arts traditions. Head for Salvador, a sprawling city of 2.7 million people, and stay in Casa do Amarelindo, a 19th-centry mansion with ten guest rooms and a rooftop terrace that overlooks the bay (doubles from $170; casadoamarelindo.com). Spread out through the city to see capoeira circles forming in public squares, gatherings of mystical candomblé practitioners, and festas alive with costumes and drumbeats. For a little adventure, visit the inland Chapada Diamantina National Park. Install yourself at Vila Esperança and enjoy the red-rock buttes, verdant mountainsides, waterfalls, and caves with perfectly clear pools (from $63; vilaesperanca.com.br).
CHASE GIANT FISH
Peacock bass are outrageously colorful, grow to 15 pounds or more, and have awful tempers. "They're like largemouth bass on steroids," says Hank Ingram of Frontiers Travels, which runs seven-night trips to the Warekena Fly Fishing Sanctuary. Angling on the catch-and-release reserve in the Amazon's Negro River Basin is at its peak between January and March, when the floodwaters have receded and the bass are concentrated in rivers hunting for baitfish. It's possible to land a 22-pounder on a fly rod here, but don't expect it to be easy. They hit the fly hard, take to the air quickly, and fight like bulls. $5,990 for seven nights; frontierstravel.com
ORDER WISELY
At one time, only Brazil's working classes drank cachaça, a rum-like spirit distilled from fermented sugarcane juice. Today it's ubiquitous. You'll find the best variety at Rio's Academia da Cachaça (academiadacachaca.com.br), an unpretentious bar in the Leblon neighborhood that stocks a hundred brands. Sip the finer ones, like Espîrito de Minas and Cachaça Salinas, on the rocks. But also try a caipirinha, the Brazilian version of the margarita and the de facto national drink. The key to getting a good one: make sure it's made with cachaça (not vodka), sugar, and lime (not berries).
VISIT THE LOCAL PLAYGROUND
You can find everything from rainforests to deserts to mountains in Brazil. To see a bunch of it in one place, head for Jalapão. The 614-square-mile state park between the Amazon and the sea has what is arguably the most diverse terrain in the country. Join local outfitter Rota da Iguana for a three-day trip and you'll get to skid down 100-foot sand dunes, swim in psychedelic-colored waterfalls like Cachoeira do Formiga, bounce through the deep hydraulics of the Novo and Soninho Rivers on a raft, and explore fervedouras—springs where you can sit back and take it all in. $500; rotadaiguana.com.br
EXPLORE THE TRAILS
Brazil in on the verge of becoming a prime trail-running destination. A number of new races—from a vertical-K, which gains nearly a kilometer in altitude, up the Morro do Aracatuba, to an ultra-race series in the state of Minas Gerais—are sprouting up, thanks to the varied terrain and ease of access. The North Face even opened a runner-centric store in São Paulo (thenorthface.com.br). Within the Rio city limits, try the Tijuca National Park for its 124 miles of pathways meandering through 15 square miles of rainforest. If you want to get out of the city, head to Serra dos Órgãos and its iconic toothy peaks. But if you're a serious runner and want to see the best the country has to offer, head for the Serra Fina mountain range, halfway between São Paolo and Rio. Stay at the rustic cabins on 67-acre Refugio Serra Fina ($95; refugioserrafina.com.br), and head out on the 20-mile traverse between Passa Quatro and Cruzeiro, a vertiginous mountain trail with panoramic views of the cloud banks below.