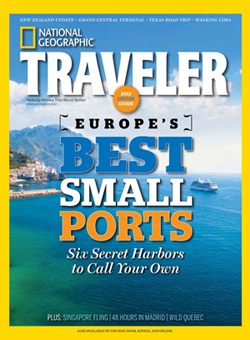 National Geographic Traveler | February/March 2013
Thrown by life, a woman drives south—where fresh perspective gets her back in the saddle.
By Kate Siber
A long, straight, empty road is the best tonic for melancholy. This I learn in West Texas.
On an otherwise forgettable, sun-bleached week in April, a decided-by-the-hour route leads me from my home in Durango, Colorado, through New Mexico, gravitating south almost instinctively. When I reach a crossroads—a sign for El Paso—I turn left, toward Texas. Perhaps some part of me knows that the sprawling skies and deserts of West Texas are uniquely suited to rebooting the brain. And that is precisely what I need. Over the dark winter months, a faceless depression had suffused my life, threatening to take up permanent residence. But here on the faithful road, just as the landscape turns harsh and veiled with the dust of spring winds, I start to feel the promise of a cure.
The weather warms, and the wind kicks up. I start to wake up. I stop fiddling with the radio and turn it off. I watch as the landscape—a thousand browns, yellows, and the unbroken blue of the sky—stages a procession of small dramas. The grasses turn gold with sunset, and the Union Pacific clanks by with its big yellow cars. Rocky hills relent to flatlands, cows dot the vast monochrome like porcelain figurines, and abandoned farmsteads cling to the land as reminders of past hope. The uncluttered landscape invites my mind to do the same.
I roll through an old ranching and railroad town, Marfa, now popular among artists, where galleries inhabit 1950s gas stations and turn-of-the-century storefronts.
"This is where the trouble happens," says a man nursing a pint as I slide onto a barstool at Padre's, a dark cavern of a bar with rows of tequila. He smiles. He introduces himself as Carlos, and his friend as Rico.
"How'd you get here?" asks Rico.
"I got in my car and just wound up here." My explanation seems utterly inadequate, but they nod, satisfied. Stranger things must happen in Marfa, where the expanse of desert beyond the movie-set-like facades allows a freedom of mind untenable elsewhere. Even the bar's motley assortment of patrons—a leathery wire of a cowboy, skinny hipsters in ironic T-shirts, a handful of stone-faced farmhands—reflects the town's live-and-let-live attitude. I feel strangely peaceful.
Now nearly 700 miles from home with no reservations or places to be, I decide to camp in a field for the night. Alone in the darkness, under the ghostly light of an almond moon, I could easily spook myself. After all, just outside town, mysterious glowing orbs—the unexplained Marfa Lights—have unnerved visitors for decades. But instead, a surprise: I feel just fine.
Desperation had spurred my hasty departure a few days earlier. The winter had been tough: My career as a writer felt stalled, I struggled with back pain from a yoga injury, and a breakup with my boyfriend of four years left me drained and morose. At a time when I felt I should have things in order, the disarray of my life's great themes overwhelmed me. That uncertainty left me grappling for control. I needed to loosen up. I decided to practice letting go on the road—to take a trip without the comfort of a single plan. If nothing else, a change of scenery might be a temporary palliative. Before I could change my mind, I cleared 19 days of my calendar, crammed my car with food, clothes, books, and camping equipment, and set off.
In my first few days on the road, I catch myself looking for answers in a road atlas. It dawns on me that in order to truly let go, I must simply accept whatever comes my way, whether beautiful or boring. So I decide that every time I come to a major fork in the highway, I will pick a direction like picking a straw out of a hat.
In Terlingua, Texas, a revived ghost town on the edge of Big Bend National Park, I linger to chat with a shopkeeper. She says it's a shame I came this year; the dust and cold killed the spring flowers before they'd even bloomed. No rain had come in nine months, and the smoke from 150,000 acres of wildfire darkens the air. But I've never been here before, I tell her, and with no expectations, I think it's gorgeous.
South of a wide swath of bland desert, Big Bend is a prize of rivers, mountains, canyons, and big wildlife, including bears and mountain lions. But I don't know any of that yet. I simply spot it on my map one day and point south. As I drive the improbably spiky Chisos Mountains, day softens to evening, shrouding the cliffs in an ethereal haze. I claim the campground's last site, cook dinner on my stove, and sip tea as the sun sets over a pair of toothy peaks. The campground eventually stills to silence, interrupted only by the cooing of a distant dove and the occasional thrush of wind through the trees.
Serendipitously, the next day I run into an acquaintance from college, Derek, on the Lost Mine Trail. I persuade him to join me on a mission that evening: a full-moon hike to the Langford Hot Springs on the Rio Grande, a series of large pools that collect in the foundations of a long-gone early 20th-century bathhouse. Setting off from the trailhead at sunset, we see no other souls except several distant javelinas as we enter a desertscape unlike any I've visited. The plants—prickly pear, sotol, and ocotillo—are perfectly spaced as if set in the gravel by some unseen gardener.
After three miles, we arrive at the springs, strip to our swimsuits, and slip in, instantly melting into the steamy pools. In silence, we watch the full moon rise, reflecting on the river and casting ten-foot cactus shadows. We get to talking, idly, about our hopes for the next decade, for good health and fewer failed relationships and whatever fulfillments we haven't yet found. As our bodies marinate, the words wash lazily out of our minds, as if we are silently making a pact not to hold each other accountable.
On the way back, the wind dies and the moon shines a platinum floodlight over the landscape. The crunch of our footsteps in the gravel lulls me into a meditative trance.
Derek stops in his tracks. "Wait," he says. "Listen." Without our footfall, there is nothing but silence, deep and flawless. I hold my breath and listen intently for something, anything—the slam of a car door, the bark of a faraway dog. There is nothing. "It's almost as if we're suspended in a diorama," Derek says in a reverent whisper. I wonder if the silence is that much more wondrous because I had never dreamed or expected it.
The next day, as I drift farther east through the Texas borderlands along Highway 90, I realize that such moments could never be planned. And perhaps it is that insistence on controlling every aspect of life that prevents me from living all of it—the moments of joy, amazement, fear, and doubt that constantly arrive and depart.
In San Antonio, a startlingly large city moated by malls and office plazas, I follow a sign for the Alamo, then splurge on a hotel room with an 11th-story view of the fortress cum tourist hive. That evening, I ramble along the River Walk, a strip of riverside restaurants and hotels in an arms race of lights, candy-colored umbrellas, and thumping pop music. Feeling a twinge of loneliness, I stop to watch the water glitter with reflections—and notice movement. Two ducks, and eight ducklings the size and shape of pears, flutter in a jumble of downy feathers. I wonder how much time I spend not noticing life as it happens.
In their best moments, spontaneous trips offer a view of a place otherwise hidden when you're willing to see only its most beautiful parts. In an El Paso Walmart, I watched a plain-faced woman in soldier fatigues stop to contemplate a rack of pretty lipsticks. In Big Bend, I lounged in the hot shade with an old cowboy on an impromptu holiday from Carrizo Springs, Texas. "Idn't nice it to be on your own?" he says, reading my mind. "If I was home my wife'd have me on a tractor plowin' some field."
Of course, many moments of unsystematic trips are not beautiful or noteworthy. I ate iceberg lettuce salads in plastic bowls at lonely truck stops in Sanderson and Three Rivers. A merciless wildfire chased me out of Balmorhea State Park in West Texas. ("Get out of here as fast as you can," deadpanned a ranger.) One day, I steered through an apocalyptic scene near Pecos, scarred by oil and gas machinery and choked with dust.
But just as unceremoniously as they arrive, those unlovely places give way to something new. Nearing the Gulf Coast, I realize I can let the landscape, whether wild and open or strangled by development, simply pass through me in all its beauty or shame. And with that understanding, the uncertainty of the road brings me unexpected comfort.
In Corpus Christi, I drive through a sprawling atrocity of strip malls lined with EZ Pawns, payday loan shops, Mexican restaurants named El Paraiso, and churches with neon signs: Jesus Saves. Then, suddenly, as if someone flicked off the lights, the towering signs disappear and there is nothing but highway embraced by black—the ocean. I cross the causeway, and soon I'm sailing through the waving grasses and pristine sand dunes of the Gulf Coast's undeveloped Padre Island, the wind a howl against my windows, the sky dark and infinite.