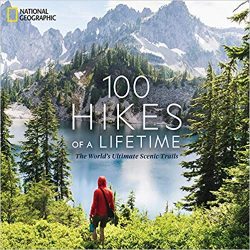 New Book! 100 Hikes of a Lifetime
From the South Rim of the Grand Canyon, a trail snakes down cliffs deep into a labyrinth of stone. The Havasupai people have lived in a flat verdant valley here for countless generations, growing beans, corn, and squash and reaping the blessings of a limestone aquifer filled with blue-green water. Today, the area is still only reachable on foot, and hikers arrive in numbers, drawn by the legendary turquoise waterfalls that pour off cliffs and collect in idyllic pools below the village of Supai.
On a warm fall evening on my first big backpacking trip, at age ten, I arrived after ten miles of hoofing it over sand and stone to catch my first glimpse of Havasupai Falls, a 100-foot stunner that catapults off a travertine ledge that, smoothed by centuries of flowing water, appears as if it is melting. Growing up in a big eastern city, I had never seen a landscape like this. I felt like a curtain had been pulled back; all of the sudden I realized that the wonders of this earth were so much greater and more beautiful than I had ever imagined. What other marvels did this planet hide in its secret recesses?
Unexpected moments like these are some of the fruits of traveling the world on foot. By the power of one's own body and the grace of one's own gait, it's possible to explore new worlds with an intimacy inaccessible to those attached to speedier modes of transport. For most of our story as a species, we saw our surroundings at a pace no greater than six miles an hour. Reclaiming that pace offers opportunities to connect with our planet—our home—in the most elemental and satisfying of ways.
This is precisely why I wrote 100 Hikes of a Lifetime, my newest book, which came out on February 4 through National Geographic. (I am drawing from my introduction for this post.) I believe it is a testament to the vast possibilities, both external and internal, inherent in seeing the world by our own locomotion. The hikes range from a splashy day hike through waterfalls and rivers in Micronesia to a full-on expedition through the vast tundra and bear-dotted mountains of the Brooks Range of Alaska. Accompanied by a collection of superb photos, the book will hopefully inspire your next foray on foot, wherever it may be.